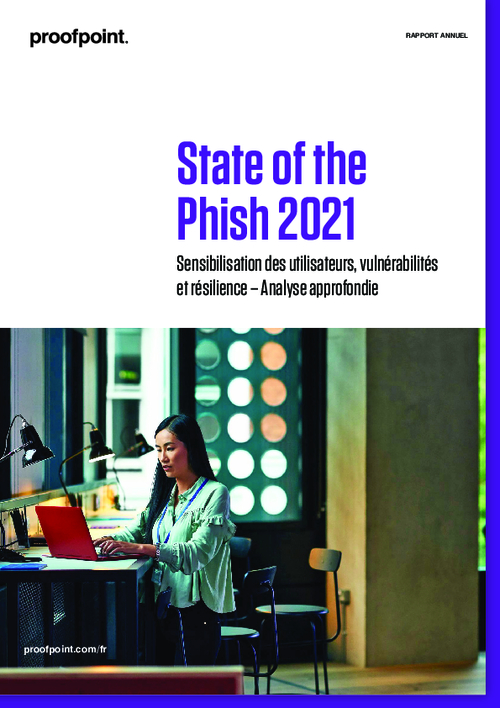 Alors que nous entamons la deuxième année de pandémie mondiale, les équipes informatiques et de sécurité des informations continuent à faire face à des défis provenant de tous les horizons. Outre les défis de cybersécurité dont elles ont l'habitude, elles doivent gérer l'explosion des escroqueries de phishing sur le thème de la pandémie et la progression continue des attaques de ransomwares, tout en assurant la migration d'un grand nombre d'utilisateurs vers des environnements de télétravail, pratiquement du jour au lendemain. Dans quelle mesure les utilisateurs y sont-ils préparés ?
Le septième rapport annuel State of the Phish aborde ces sujets et bien d'autres. Il met notamment l'accent sur des données d'analyse directement exploitables concernant l'état actuel des menaces de phishing. Vous y découvrirez :
l'impact des attaques d'ingénierie sociale ;
le taux d'échec, le taux de signalement et le facteur de résilience au niveau de l'entreprise, du secteur d'activité et du département ;
comment les menaces émergentes et les données propres à votre entreprise peuvent (et doivent) vous permettre d'adapter vos cyberdéfenses ;
les lacunes au niveau de la sensibilisation et des comportements de cybersécurité des utilisateurs qui pourraient mettre votre entreprise en péril ;
les tendances en matière de formation de sensibilisation à la sécurité informatique et des conseils pour renforcer l'efficacité de votre programme.
Téléchargez le rapport sans plus tarder.