Blockchain & Cryptocurrency , Cryptocurrency Fraud , Fraud Management & Cybercrime
$960K NFT Scam Affects Nearly 1,200 Victims
French Social Media Influencer Believed to Be Behind NFT Rug Pull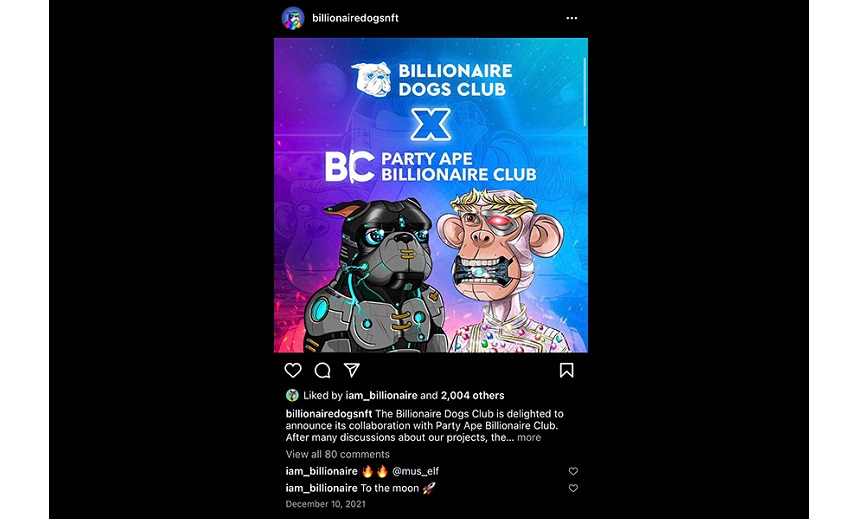 A $960,000 NFT rug pull scam has affected at least 1,191 people who bought the tokens, a blockchain investigator and researcher who tweets as @zachxbt tells Information Security Media Group. The fraud incident has also been verified by Michael Fasanello, a private sector compliance professional specializing in anti-money laundering, and William Callahan, director of government and strategic affairs at the Blockchain Intelligence Group.
See Also: Webinar | Prevent, Detect & Restore: Data Security Backup Systems Made Easy
1/ Time for another $960k NFT rug this time involving Laurent Correia a popular French influencer with a reality TV show. pic.twitter.com/QkGeDecr5f

— zachxbt (@zachxbt) April 4, 2022
A rug pull is a fraud in which the creator of an NFT or other digital asset solicits investments from unsuspecting victims, only to abandon the project abruptly and retain the investors' funds. In 2021, rug pulls accounted for 37% of all cryptocurrency scam revenue, or $2.8 million worth of cryptocurrency, compared to just 1% in 2020, according to a report from blockchain research firm Chainalysis.
This incident comes weeks after two 20-year-olds were arrested and charged in Los Angeles, California, over a $1.1 million "Frosties" rug pull scam. At the time, Ari Redbord, head of legal and government affairs at TRM Labs, told ISMG that that regulators had just started to focus on NFTs. The U.S. Financial Action Task Force recently provided guidance explaining that NFT collectibles may not be virtual assets, but if they can be used for payment or as an investment, they may be treated like cryptocurrency for anti-money laundering compliance purposes, Redbord said, adding that there will likely be a "lot more from Treasury on NFTs in the coming months."
The Billionaire Dogs Club Case
Called the Billionaire Dogs Club - or BDC, the now-dormant NFT collection was founded by French social media influencer and TV show host Laurent Correia, the researcher says. The project's indexed website shows four other team members, including Guillaume as the marketing director, Nico as the developer, Ricky as the project lead and War as the creative director. The page does not specify their last names or any other details.
Now we are at it: the ruggers/scammers of Billionaire Dogs Club were Guillaume Rassemi and Laurent Correia (who has over 3M followers on his IG account). Also living in Dubai and of course driving in fancy cars as you do. pic.twitter.com/b5WnIthM0x

— NFT Ethics (@NFTethics) March 31, 2022
The NFT project was launched in December 2021, with 6,500 NFTs at 0.1 ETH presale and 0.2 ETH public price. It was heavily promoted with large cash and luxury car giveaways claimed.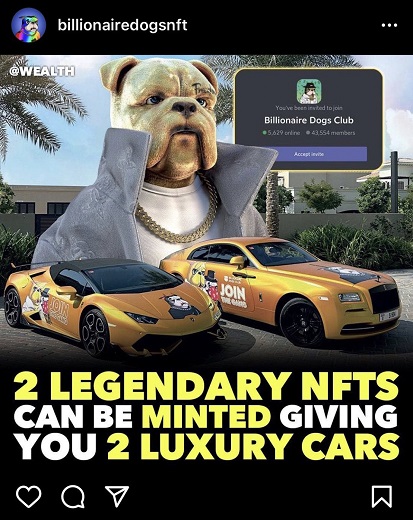 A post from Billionaire Dogs Club promoting giveaways (Source: zachxbt)
"But once the minting period began on Dec. 12, 2021, there was a lack of demand and therefore supply was reduced to 2,000 NFTs. Within the next week, the Discord and website were both deleted, and the project's team vanished," the researcher zackxbt tells ISMG.
The researcher says he began investigating the case when he was approached by a victim of the alleged scam. "I received an anonymous request from a follower that lost money in the rug pull. They were frustrated there have been zero repercussions for Laurent," he says.
"I first examined the Billion Dollar Club contract to see where all of the proceeds from the sale were sent to. In total, five different addresses received funds. I then looked at the entire transaction history for each address. I went to Laurent's Instagram account and saw he had a MAYC #18272 as his profile picture. The wallet that owned that NFT matches a wallet that received 101.339 ETH from the contract ($391.4k)," the researcher says.
MAYC, or MutantApeYachtClub, is a project run by Yuga Labs, which also mints the massively popular Bored Apes NFT collection.
A review of the Billionaire Dogs Club on Etherscan - a website that shows all on-chain transactions on the Ethereum network - shows there were at least 1,191 holders of the NFT, zackxbt says.
A tally of the transactions on Etherscan also show that the buyers spent 250.14 ETH on the NFTs and that, calculated at the price of $3,862.18 per ETH (historical ETH price at time of sale), the proceeds from the project come to $966,000, he adds.
"Laurent himself received over $400,000 to his public wallet. How do I know it's his public wallet? Well, he literally spent the money on a MAYC 18272, CloneX and Doodle [all of them NFTs]. Then, he posted them on Instagram to his story and changed his profile picture," the researcher says. "His Instagram consists of him constantly flexing with zero remorse."
Adding that it was "truly sickening to see an influencer blatantly rug a project like this," zackxbt says that "it's almost as if they don't know how the blockchain works.
"Laurent broadcast that he was a founder. You can still visit his Instagram and see Laurent commenting and liking photos. Just the Twitter, website and Discord [of the NFT project] were deleted," the researcher says.
Neither Shauna Events, which reportedly represents Correia, nor Correia himself responded to ISMG's request for comment via email and Instagram direct message, respectively.
Confirmation
Michael Fasanello, chief compliance officer of financial services firm LVL, confirms the scam.
"This is an actual rug pull. Blockchain analytics were able to confirm it, along with hallmarks of a rug pull, such as the immediate shutdown of social accounts and other means of communicating with the founders/developers shortly after the minting was complete," says Fasanello, who is currently the chief compliance officer of financial services firm LVL.
Blockchain Intelligence Group's Callahan says the analysis of a crypto wallet address specified by zackxbt in his post shows that the wallet indeed belongs to an individual by the name Laurent Correia. "We were able to confirm that part of the funds - $333,937 - from the Billionaire Dogs Club NFT project went to [Correia's] address," he says.
Fasanello says Rug Pull Finder, an NFT analytics company that investigates these incidents professionally, also confirmed the veracity of the rug pull.
What Happens Next?
Offering insights on the Billionaire Dogs Club rug pull case, Fasanello says that the founders and developers should be liable for retail fraud, as they promised benefits along with the purchase of digital art and failed to provide those benefits to buyers.
But it is currently unclear whether the alleged perpetrator(s) will be charged in this case, or whose jurisdiction the case falls under. While some of the victims ISMG found were based in the U.S., Zackxbt says Correia currently lives in Dubai, which is evident from his posts on Instagram.
Dubai recently set up the Dubai Virtual Asset Regulatory Authority - or VARA - to oversee regulation, licensing and governance of virtual assets, NFTs and cryptocurrencies.
VARA and the Dubai police did not immediately respond to ISMG's request for comment.
But a cryptocurrency crime investigator, under the condition of anonymity, tells ISMG that U.S. law enforcement authorities are investigating the case.
The FBI, which runs a dedicated unit for cryptocurrency crime called Virtual Asset Exploitation Unit, tells ISMG it cannot confirm or deny any details related to the scam.
Role of Regulation
According to Fasanello, regulation plays a big part in curbing cyber-enabled financial crime, such as rug pulls or exit scams.
But marketplaces that help mint NFTs should also bear some responsibility. "By mandating customer due diligence, 'know your customer' and other onboarding protocols," he says, "NFT markets can deter criminals from victimizing buyers through thorough onboarding identification collection and verification procedures." He also recommends AML protocols, such as transaction monitoring and screening of wallets linked to NFT projects, as a form of deterrence.
Fasanello says luxury art and rare collectibles have been a high-risk market in the traditional finance space for decades, but there are protocols and controls, and those should also be applied when the items collide with digital assets. "Regulators should be more proactive in cracking down on this space."
The widespread use of influencer marketing, particularly in crypto, underlines why several countries, such as Australia, have implemented laws to regulate financial influencers, Callahan says.
While not all law enforcement agencies have the training and analytical tools to investigate rug pulls, victims should report these crimes to law enforcement agencies, Nik Horniacek, co-founder and head of strategy and risk at Rug Pull Finder, tells ISMG. He says many of these crimes "are underreported as victims feel embarrassed or believe there is nothing that can be done to recoup losses."
At the moment, U.S-based victims of this and other NFT scams can report their losses to the FBI Internet Crimes Complaint Center, the IRS-Criminal Investigation's Cyber Crimes Division, Homeland Security Investigations, or their local U.S. attorney's office, he says.