Breach Preparedness , Data Breach , Fraud
Infographic: U.S. Migration to EMV
A Progress Report on Card Issuance, Terminal Upgrade Efforts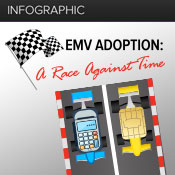 The U.S. migration from magnetic-stripe payment cards to EMV-compliant cards is in full swing, thanks in part to massive breaches at retailers such as Target and Home Depot.
See Also: Beyond the Checkbox: Reducing Liability Through Effective Risk Measurement
Banking institutions and retailers are scrambling to get chip cards issued and point-of-sale systems upgraded before the card brands' October 2015 fraud liability shift date. Here's a timeline of progress in implementing this new technology.